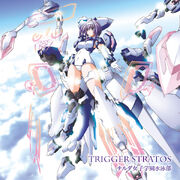 Trigger Stratos: Triggerheart Exelica Arrange Album (TRIGGER STRATOS トリガーハート エグゼリカ アレンシ アルバム TRIGGER STRATOS Torigaahaato Eguzerika Arenji Arubamu) is an Arrange Album published in iTunes by LAL in 2012.
Tracklist
Edit
心のトリガーを引け (Pull the Trigger of the Heart)
インサートコイン (Insert Coin)
トリガーハートストラトス (Triggerheart Stratos)
エグゼリカ、暁に舞う
V.B.A.S.
絶対破壊都市
深紅の衝撃
戦いの渦中へ
ヴァーミス・コア (Ver'mith Core)
Arrange, Design and Web: 月城詠士
Mastering: まぐろいちば
Illustration: 蒼牙 (Souga Nanairo)
Album Website: http://www.lalnet.info/cjg-001.html
Ad blocker interference detected!
Wikia is a free-to-use site that makes money from advertising. We have a modified experience for viewers using ad blockers

Wikia is not accessible if you've made further modifications. Remove the custom ad blocker rule(s) and the page will load as expected.