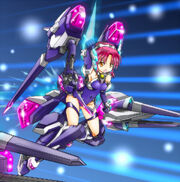 The Sword Attack is the secondary weapon in the Combat Gear of the Triggerheart units. This close range weapon is installed in the translucent forearm parts of the Spec Suit.
This weapon wasn't used in the game but it was mentioned in Warashi's english website.
It is unknown what kind of use it could  have had in the game since it wasn't used (Probably discarded in favor of the Anchor Unit), If this weapon had made it into the games  there's the posibility that it would function similarly to the Radiant Sword attack from Radiant Silvergun, but with what little information we have about it we can just speculate on how this weapon would work.
Another possible "Sword Attack" could be the energy beam used by Crueltear to destroy Ennda at the true ending of the XBLA/PS2 versions as a probable reference to the Sword Over Weapon from Thunder Force V.