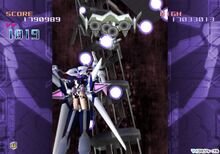 Supression Bombs are the Special Weapon of choice of the Triggerheart units.
This weapon inflicts damage to all enemies on screen and destroys all the bullets, resulting in a both offensive and defensive weapon. Altough it is more focused on the defensive side as the Space Interference Field is automatically deployed after being released.
Curiosities
Edit
Ad blocker interference detected!
Wikia is a free-to-use site that makes money from advertising. We have a modified experience for viewers using ad blockers

Wikia is not accessible if you've made further modifications. Remove the custom ad blocker rule(s) and the page will load as expected.