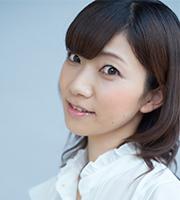 Shiho Kawaragi (河原木 志穂 Kawaragi Shiho, born April 29 in Tokyo), is a Japanese voice actress who works for Kenyuu Office. When voicing adult games and hentai OVAs, she is also known as Kaname Yuzuki (柚木かなめ Yuzuki Kaname), She is currently married since March 2012.
She's the voice of Exelica in all the Triggerheart Exelica games and the Parallel Anchor Drama CD.
Fluestern des Engels / Oshiho (Shiho Kawaragi certified fansite) (Japanese)
Shiho Kawaragi at Kenyuu Office (Japanese)
Shiho Kawaragi at Anime News Network's Encyclopedia
Shiho Kawaragi at Voice Acting List (Japanese)
Ad blocker interference detected!
Wikia is a free-to-use site that makes money from advertising. We have a modified experience for viewers using ad blockers

Wikia is not accessible if you've made further modifications. Remove the custom ad blocker rule(s) and the page will load as expected.