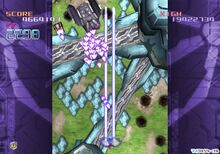 The Laser Form Shot (レーザーフォーム・ショット Leizā Fōmu Shuto) or Laser F. is Faintear's weapon of choice in Triggerheart Exelica Enhanced. This weapon fires a large twin laser shot that causes great damages on enemies, it is the most devastating weapon known on the Triggerheart arsenal. If both lasers destroy a target (an Esbarel for example), it drops more bonus items than the Spread or Linear shots, resulting in a perfect weapon for high score enthusiasts.
Ad blocker interference detected!
Wikia is a free-to-use site that makes money from advertising. We have a modified experience for viewers using ad blockers

Wikia is not accessible if you've made further modifications. Remove the custom ad blocker rule(s) and the page will load as expected.