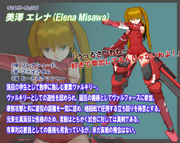 Elena Misawa (美澤エレナ Misawa Erena) is one of the characters from the doujin game Densou Tenshi Valforce. Her Valkyrie Number is No.008
In the game's Opponent Line Up, she's the third opponent for the player, her Battle Stage is the Midnight City, which is the rooftop of a building.
While Ai and Nagare are blatant copies of Exelica and Crueltear, Elena seems to be based on Faintear (both original and Imitate) and also takes cues from Soryu Asuka Langley from Neon Genesis Evangelion (Shikinami Asuka Langley in Rebuild of Evangelion).
Elena's 2P/CPU alternate color is a black swimsuit with blue hair.
Right Weapon: Flare Shot
Left Weapon: Fire Bomb
Center Weapon: Heat Slasher
You're annoying. It's not like i'm joining you for fun!
- Elena's quote
A high school student and a quick learner of Valkyrie units. Before being deployed as a Valkyrie, she joined Valforce for her country. She does a coordinated attack with a volley fire, stands and stays alert with upcoming battles. In order to live long in future, she fights with her potential and to honor the code. She does not back off during the fight whenever she is in a pinch.
Curiosities
Edit
The concept design sketch depicts Elena wearing a high leg leotard instead of a school swimsuit-like design and slightly longer twintails, increasing her "Faintear-esque" appearance.
Gameplay Video
Edit