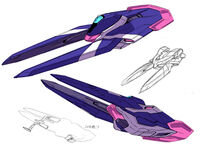 C'rnBurn (カルノバーン Karunobaan, also spelled C'rnBarn) is Crueltear's primary weapon. Upgraded and regenerated on-site by Crueltear herself, one side serves as a Semi-Autonomous Companion Gunner Ship, while the other, with a case covered by an anchor generator frame, serves as the Anchor Unit C'rnBurn Vis (カルノバーン ヴィス Karunobaan Visu).
While it is strong and moves a lot smoother and faster than the A'rstear, the C'rnBurn is harder to control, causing it to be a slightly less effective weapon.
Ad blocker interference detected!
Wikia is a free-to-use site that makes money from advertising. We have a modified experience for viewers using ad blockers

Wikia is not accessible if you've made further modifications. Remove the custom ad blocker rule(s) and the page will load as expected.