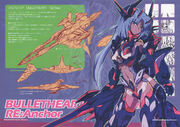 Bullethearts
(バレットハート
Baretohāto
) are characters featured in
Triggerheart Exelica RE:Anchor
as the new rivals of the
Triggerhearts
, which use large equipments to counter the Triggerhearts gunners and Anchor Units, resulting the creation of Boosters such as the Exlc_Ext001 and Cru_ext000.
Known Bulletheart units
Edit
Curiosities
Edit
According to Kazuhiko Kakoi (GRA), Bullethearts also have "Numbers" like the Triggerhearts, though he personally keeps these "Numbers" secret.
Ad blocker interference detected!
Wikia is a free-to-use site that makes money from advertising. We have a modified experience for viewers using ad blockers

Wikia is not accessible if you've made further modifications. Remove the custom ad blocker rule(s) and the page will load as expected.