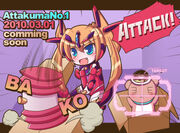 Attakuma Number 1 (アタックマNo.1 Atakuma Nanba Uan) is (or was) a game developed by Warashi as part of a series of mini-games based on Triggerheart Exelica.
The announcement of a coming soon release was made on March 1st, 2010, but after that, there was no news about the game. Judging by the pic we can assume this was going to be a Whack-a-Mole type of game where the player (as Faintear Imitate) whacks Exekuma with a squeaky hammer.
Since Warashi's closure, it seems like Attakuma's development died with the company.
Ad blocker interference detected!
Wikia is a free-to-use site that makes money from advertising. We have a modified experience for viewers using ad blockers

Wikia is not accessible if you've made further modifications. Remove the custom ad blocker rule(s) and the page will load as expected.